P.S. Never Give Up Hope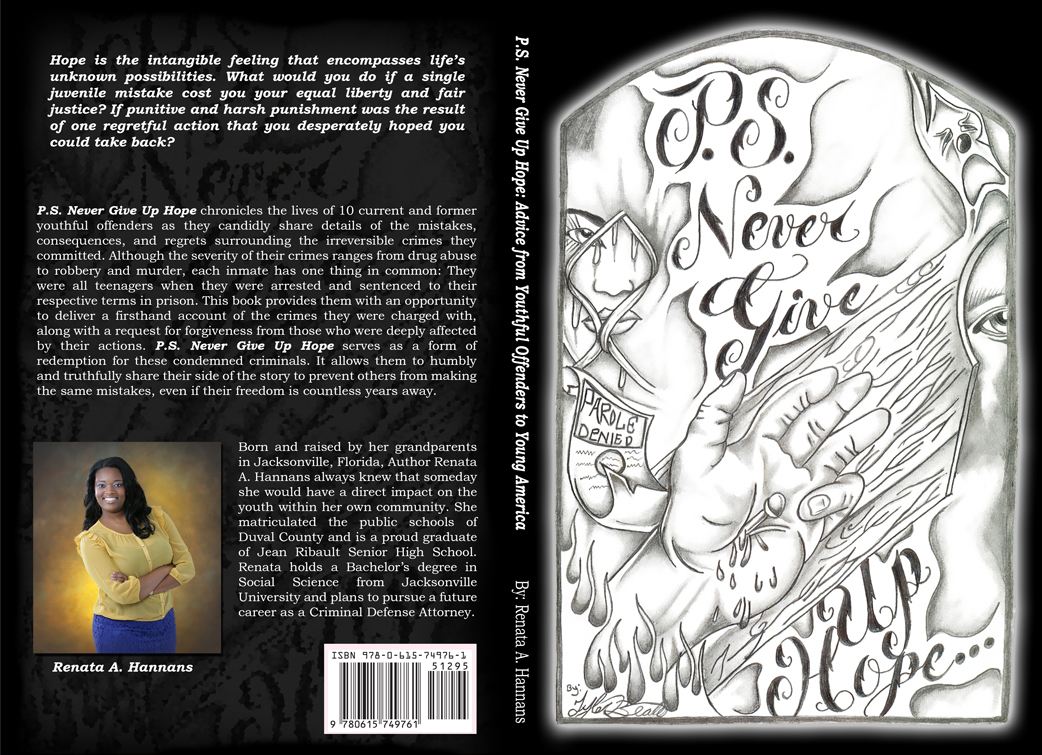 I can remember in the eighth grade writing an essay on the topic of disenfranchised voters. I didn't think it was fair then that after serving a sentence convicted felons still could not vote. As time progressed and I got older, my interest and passion for criminal law grew. I closely followed court cases that were publicized on the news in each stage, from conviction to sentencing. This became very real to me when I would watch the news and the people being sentenced were my age or had attended school with me. With every news segment or article I read came this nagging question: What can be done? I still don't have the answer, but I know I want to be a part of the solution.

Nearly two years ago I wrote my first letter to a young man who was 16 years old serving a life sentence. I could not myself grasp the idea of never being in the free world again as a result of a decision I had made when I was 15. I asked Jonathan, "What gives you hope?" He answered, "Some days there is no hope." From that moment forward I ended every correspondence with P.S. Never Give Up Hope.

According to the National Center for Education Statistics, the national dropout rate in 2010 was 7.4%. In the state of Florida in 2010, the Florida NGA reported an 80% graduation rate. The other 20% simply fall into the oblivion of hopelessness and some end up in prison. In Florida prisons, the majority of the inmates are 93% male and 49.3% are African-American (www.dc.state.fl.us).

This can be attributed to the risk factors highlighted throughout the book. While the statistics show us the hard facts; the faces behind the numbers and their stories paint a bigger picture. Over the course of the past year, I traveled the state of Florida visiting each subject in prison. It was very important to me from the beginning of this project to actually write each subject on a continual basis. It is not easy to open up to a perfect stranger about the absolute worst moment in your life that cost you everything, and sometimes it took months to gain a better understanding. With each letter I received more insight on why they ended up in prison. I then searched public records and news archives, spoke to their attorneys and even scheduled meetings with their family members. Putting these pieces of the puzzle together helped me further realize how life circumstances and the environment in which they were raised in aided in ushering them into prison.

Yes, it was a conscious decision on their part to commit a crime. However, the risk factors they lived with at home were very real—whether it's a single parent home, poverty, growing up in violent neighborhoods, the absence of a male figure, abuse, drugs or poor decision making. Some may say these are excuses and that others have survived in more severe situations. My response to that assumption is there are exceptions, and the old cliché rings true that there are exceptions to every rule.

Then, there is the flip side to the story—those affected by the crimes committed and their loved ones. For there is a weeping mother behind every son or daughter in the casket with a life loss to senseless gun violence. There is a scared fragile woman who had a gun placed in her face asking for all she had leaving her paranoid to ever leave home alone again. They have to deal with the pain of the crimes as well, and could only wish to walk into a visitation room one day and greet their son or daughter with a hug.

It has been said that harsh sentencing deters crime, although there are no findings to support this. The grim reality is the harsh sentencing of the perpetrator won't ease the pain of the victims, and it won't influence young people in future generations to make better choices. After ten or twenty years have passed, that young kid is now a man or woman raised by the system. They have matured and had countless hours of monotony to think of how they ended up in prison. By this time, it's too late; far too late to erase the past. The only hope left is an appeal, parole if eligible, or legislative changes. The one hope they all have in common is that the young boy or girl reading these pages learns from their mistakes so they don't have to make them.

It is my hope that this book makes you think of the consequences that follow the choices you make. I want you to see as you have read that you are not alone in the struggles of life. Don't allow your circumstances today force you into making choices that you will regret tomorrow. To the young men and women already incarcerated: Yesterday does not determine tomorrow.

You are told what to do, what to eat and what to wear, but you control your thoughts. Educate yourself and become a better version of who you already are. Read books and mentor another inmate so they too won't make the same mistakes. Don't let the time do you; you do the time.

Encourage yourself and...
P.S. Never Give Up Hope
Note from the Editor
In the Summer of 2012, Author Renata A. Hannans contacted me to request my iWrite4orU services for her nonfiction book, P.S. Never Give Up Hope. We scheduled a meeting at the Riverside Starbucks in July. It was pouring rain and I asked Ms. Hannans if she wanted to reschedule our meeting. Her answer was an immediate "No." I arrived before she did, and when we were finally introduced, I sensed a bit of urgency in her demeanor. She admitted to being nervous about sharing her idea with a stranger and told me that she was afraid of writing a book that would not meet her overall expectations. I assured her that I would do all that I could to assist her along the way. I gladly offered my services to Ms. Hannans, knowing that she was skeptical about her writing abilities, as well as how confident I was in my own ability to successfully assist her with the task at hand. She was passionate about the topic, but it was left up to me to help her realize that writing is indeed an acquired skill. Although she had been collecting data for over a year, Ms. Hannans worked faithfully and diligently on her project for six more consecutive months. During the course of our partnership, she continued to correspond with each youthful offender while simultaneously drafting their chapters and adhering to my editing suggestions, along with handling her full-time responsibilities as a wife, a mother, and Case Manager. She was fully immersed in her #WriterGrind, but the reality of her initial skepticism began to sink in after receiving numerous rejections from a few major publishing companies. Ms. Hannans was afraid that no one would be receptive of her message and wanted to give up. However, I used her title as metaphoric way of motivating her to continue: P.S. Never Give Up Hope... You are going to save so many lives. Ms. Hannans later made the decision to self-publish, because she wanted to maintain control over her own destiny. Furthermore, Ms. Hannans was unaware of how much she had already changed my life. By having faith in me as a first-time Author and newly established Editor, she equipped me with the confidence I needed to catapult my Live YOUR Dream movement, and I was totally dedicated to helping her dream come true. Ms. Hannans introduced me to the reality of juvenile sentencing, and I was shocked by every revelation as we pursued our quest. I traveled with her to interview two of the subjects in the book, Devonta Mayberry (Chapter 8) and Sophia Smith (Chapter 9). Sophia was enjoying the freedom of walking around in her own home, but Devonta was still incarcerated.

On November 26, 2012, Ms. Hannans and I drove 2 hours to Mayo, FL to interview him in a glassed room. After being checked by security, we were led through the gates, passing inmates who were participating in recreational activities, and obviously excited about seeing two new faces. We waited for Devonta for about 20 minutes. He greeted us like a gentleman and answered our questions respectfully and truthfully. I was admittedly nervous, but Ms. Hannans was comfortable and already familiar with the procedure. When she shared the details of her experiences with every other subject in the book, I was very impressed with her willingness to conduct research and obtain information firsthand. Responding to letters on a daily basis, sending thoughtful gifts, traveling solo to Vero Beach, FL on a whim, and sticking to her commitment of greeting one of the youthful offenders on the day she was released from prison are just a few examples of how devoted she was to this project. Ms. Hannans has sacrificed a lot to accomplish this goal, most noticeably quality time with her own daughter, and even at a young age she understands what Mommy is trying to do. By dedicating herself to these individuals who literally don't have much to look forward to, Ms. Hannans has exemplified a strong desire to inspire change. She constantly encourages everyone around her to do whatever it takes to "make it happen", myself included. I am proud of what she has allowed me to help her achieve, honored to present the final product, and confident that this book will affect the lives of many.

P.S. Never Give Up Hope...

and Live YOUR Dream!

Liltera R. Williams, iWrite4orU Writer/Editor/Entrepreneur